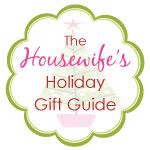 I know that some of you are probably all finished with your holiday shopping, but for those of us that are not, I have a fantastic resource for you!
Jo-Lynne of Musings of a Housewife
has worked tirelessly to put together this gift guide. She has it sooo completely organized and has some really unique gift ideas to help make your shopping easy. You may not even have to leave your desk chair!
Just click on that button at the top of the post and she will explain it much better than I can even try. You. Must. Go. Now. :)
Oh, and there are giveaways to be won! Okay.
Go now. Have fun!!!